Skip to Content
Pelvic health (Incontinence)
Emsella® treatments
Strengthen Your Pelvic Floor With Emsella® Treatments
Posh Body Wellness provides patients throughout Westlake Village, CA, with comprehensive body healing treatments performed by Dr. Nasim in our comfortable and relaxing wellness center. Kick urinary incontinence out the door and take control over your weak pelvic floor with Emsella. POSH Body Wellness proudly offers a painless, non-invasive treatment for urinary incontinence and the improvement of intimate health in our beautiful wellness clinic in Westlake Village, CA. Emsella is FDA-cleared to treat male and female urinary incontinence by rehabilitating weak pelvic floor muscles and restoring neuromuscular control. This breakthrough treatment uses advanced HIFEM (High Intensity Focused Electromagnetic) energy to create profound muscle contractions of the entire pelvic floor. All you need to do is sit, relax, and let Emsella do the rest.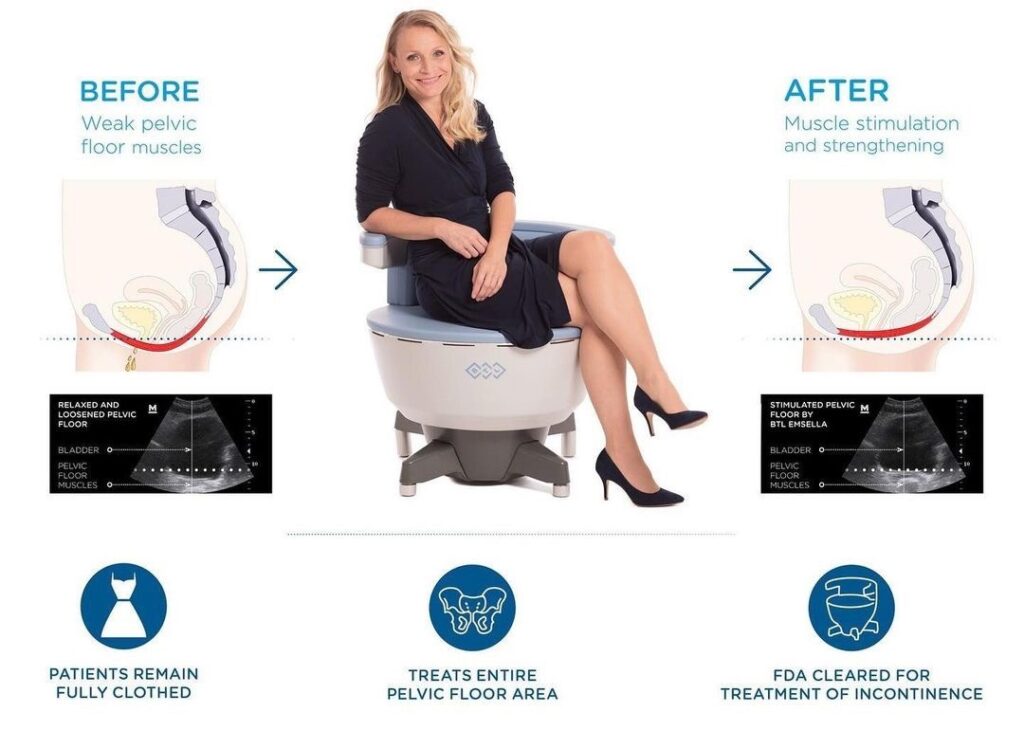 What Are the Common Signs of a Weak Pelvic Floor?
The pelvic floor are the bowl-shaped muscles in the pelvic area that support the uterus, bladder and bowels. There are many factors that can cause weak pelvic floor such as aging, lifestyle, childbirth, and menopause. Deconditioning of the pelvic floor muscles can lead to loss of bladder control and the involuntary leakage of urine. These are some of the common symptoms of weakened pelvic floor:
You feel the urge to go to the bathroom often.
You experience urine leaks when you engage in strenuous activities.
How Does the Emsella® Treatment Work?
Emsella uses electromagnetic waves at a high frequency to cause pelvic floor muscle stimulation completely non-invasively. A single session is equivalent to doing 12,000 kegel exercises in only 28 minutes. Our patients often take the time to relax, read a book or enjoy some quiet time for themselves. As a non-invasive treatment option, it requires no downtime. As soon as you're finished, you can continue with your regular day-to-day routine. We customize our treatments to meet the needs of our patients. However, we usually recommend a three-week session plan with treatments occurring twice a week. Many patients report improved results in as little as one treatment. Your first step towards taking control of your life begins at Posh Body Wellness with the help of Dr. Nasim.
Westlake Village, CA's Premier Wellness Center
At Posh Body Wellness, we take a holistic approach to patient care and utilize the newest technologies in our treatment plans. We provide numerous services, including chiropractic care, lymphatic massage, body sculpting, and Emsella® to strengthen the pelvic floor. We are dedicated to ensuring patient satisfaction and pride ourselves in outstanding customer service. First-time clients receive a complimentary assessment. Become your favorite version of yourself and contact us today.
Is Emsella® right for you?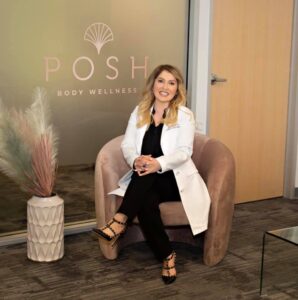 Call (805) 852-5251 or click the button below to request a Free Consultation with Dr. Nasim Pedram in person at our office. She will review your medical history and discuss your needs and goals. She received her doctorate in Chiropractic Medicine from Southern California University of Health Sciences.
She has more than ten years of experience treating a variety of patients such as athletes, celebrities, children and adults with musculoskeletal concerns.